Why Is My Furnace Leaking Water?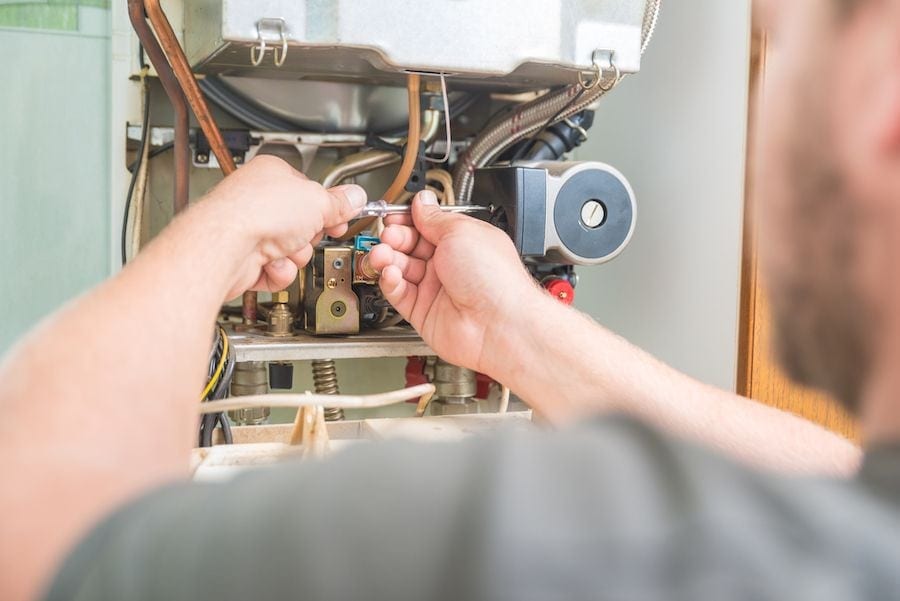 Have you ever discovered a small puddle of water near your furnace? A leaking furnace usually only means one thing—there's a problem!
When there's an issue with your Fircrest home's heating, ventilation, and air conditioning (HVAC) system, turn to Resicon LLC. We are a top-quality, reputable HVAC, plumbing, and electrical company committed to providing the best quality of service possible!
Let our experts examine your Washington HVAC system to ensure everything works safely and efficiently. We are ready to restore your home comfort!
Call us for a free repair quote!
Possible Reasons for a Leaking Furnace
Your furnace could be leaking for any of the following reasons:
Your condensate drain line is clogged or disconnected.
Your furnace filter is clogged with dirt, dust, and debris.
There is an issue with your heat exchanger.
If you have a humidifier attached to your furnace, there may be a broken component—or it could be clogged.
Any of these scenarios could be why your furnace is leaking—but the only way to know for sure is by turning to our Resicon LLC professionals. We will happily diagnose and address the issue for you—that's what we're here for!
Let our Resicon LLC professionals assess the situation and get your furnace operating efficiently again in no time.
After all, a faulty furnace is more than an inconvenience—it can also lead to higher heating costs. Furnaces that operate poorly and inefficiently use more energy.
The average homeowner in the United States already spends about $115 each month on their energy bill, according to the U.S. Energy Information Administration (EIA). Don't risk increasing your monthly expenses!
Address any furnace issues as soon you discover them to avoid spending more money than necessary between repairs and higher utility costs.
What to Do When You Notice Your Furnace Is Leaking
When you discover your furnace is leaking, be sure to do the following:
Turn off your HVAC system.
Safety comes first—water and electrical equipment do not mix! If your furnace is leaking and still running, you need to turn it off until the issue is resolved.

Use towels to soak up any puddles from the leak.
Clean up the water to prevent further damage to your floors and furniture. Small leaks can be cleaned up with towels. If there is a lot of water on your floor, consider using a wet-dry vacuum to remove it.

Contact our Resicon LLC professionals!
Most importantly, all you really need to do is give our Resicon LLC professionals a call! We can handle any furnace issues and concerns for you. Let us investigate the issue and provide the repair you need for optimal comfort.
Trusted Furnace Repair and Replacement in Fircrest
No matter the issue, our Resicon LLC professionals are here to offer a solution. We offer trusted home service professionals who can help with any of your furnace needs.

Our experts have the knowledge and expertise to repair your furnace, but sometimes, it's best to opt for a replacement.
Consider the age and how often you schedule maintenance visits. A well-maintained furnace will operate efficiently for up to 15 years or longer.
Are you keeping up with maintenance? Be sure to ask about our maintenance plans that make caring for your HVAC, plumbing, and electrical equipment a breeze!
Whether you decide to repair or replace your furnace, know our Resicon LLC experts are here to help!
We Can Address Your Furnace Concerns
When it comes to your heating and cooling needs for your Fircrest, WA, home, you can count on our Resicon LLC professionals. No issue is too big or small—we can address it all. Call us today at 253-625-7952 or request service online.