Air Purification Products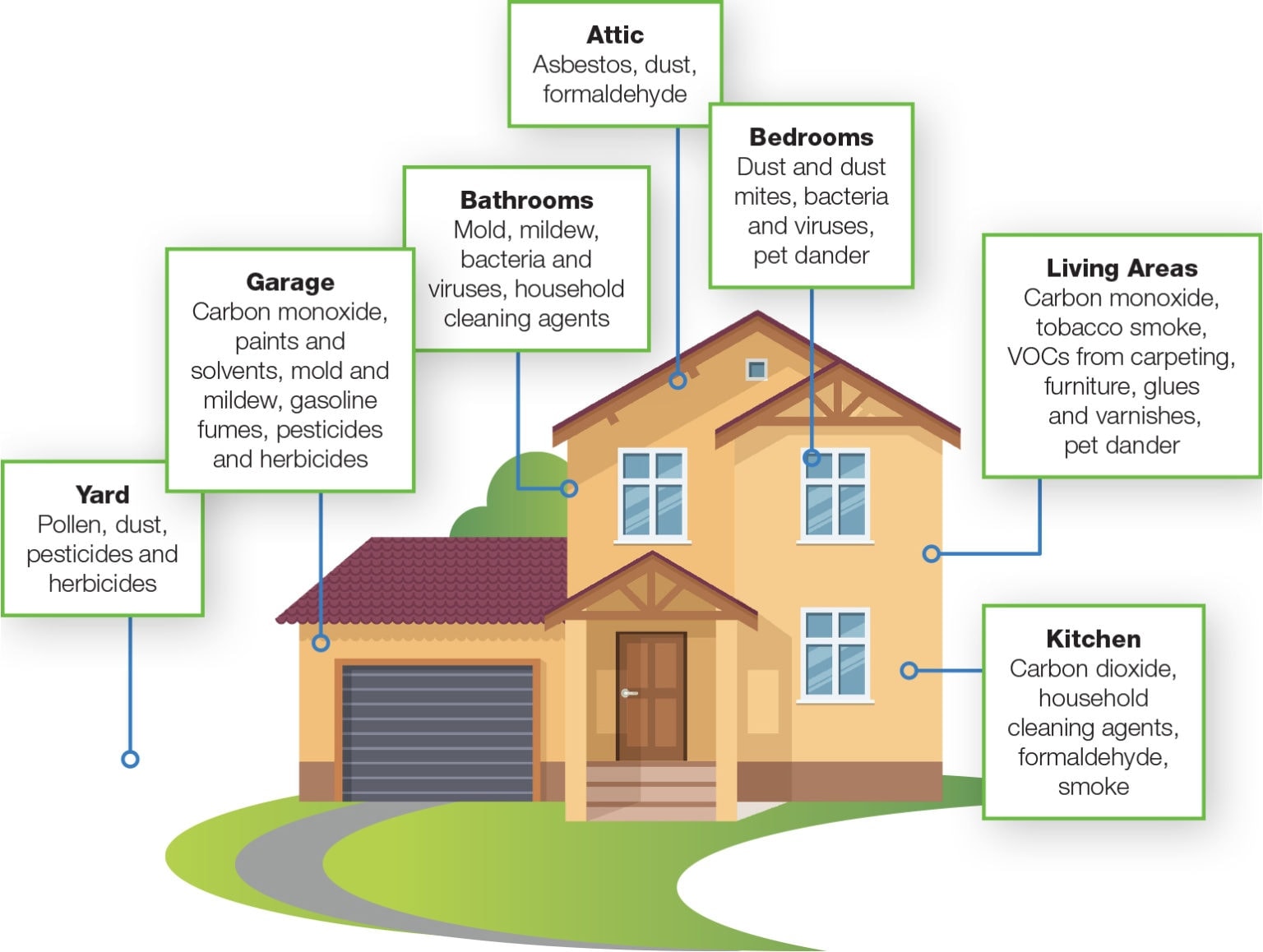 Download Indoor Air Quality Product Brochures:
For your Gas or Electric furnace system iWaveR
For your Ductless Mini Split Wall Mounted Units iWaveM
For Detergent Free Laundry Laundry Pro
Free Standing Whole Home Air Cleaner AirScrubber
10% OFF our regular price for any of these products.*
Your Tacoma, WA, area home or office ventilation system is the key to good indoor air quality (IAQ) and a comfortable and healthy—what we at Resicon call-"IN-vironment."
These systems are usually hidden from sight or designed in a way that does not draw attention to them. However, these systems are an essential part of providing proper indoor air quality as well as controlling humidity and fumes.
Our Resicon Team Members Are Leaders in Indoor Air Quality
At Resicon, our heating, ventilation, and air conditioning (HVAC) team specializes in the installation and upgrade of ventilation systems for homes and businesses throughout the Puget Sound region. Our team has extensive experience and licenses: OSHA (Occupational Safety and Health Administration) 10, Lead Safe Renovator, Asbestos Awareness training, and more.
We also have a certified building analyst on staff who can design a code-compliant solution for your home. This helps to ensure the work we do for your ventilation system complies with all national, state, and local code requirements.
Why Is Indoor Air Quality So Important to Your IN-vironment?
We like to call the indoor spaces you spend time in your IN-vironment. As opposed to outside spaces, we can implement strategies to greatly control the quality of the air in your IN-vironment.
Breathing quality indoor air is critical for good health. Most Americans spend a significant amount of time indoors-either in the home, office, or other types of buildings-where gas, chemicals, and other pollutants can cause headaches, eye irritation, allergies, and fatigue.
Clean air can prevent many environmental health hazards such as asthma, which according to US Environmental Protection Agency (EPA), affects 25 million people, including 7 million children in a given year. Asthma accounts for nearly 17 million physician office and hospital visits.
The most effective strategy for maintaining clean air is through properly designed ventilation. The "V" in HVAC stands for ventilation, but it often seems that some HVAC contractors have forgotten about it. Not us!
We know the tremendous amount of good that ventilation systems do for spaces both large and small. Outdated or badly installed ventilation systems waste money, can create an unhealthy situation, and contribute to being uncomfortable in the space.
Proper ventilation is also critical for maintaining a healthy IN-vironment by maintaining proper humidity levels and exhausting harmful or annoying allergens and pollutants. If your indoor air quality does not seem up to par, let us find out what upgrades you need.
How Can Resicon Improve Your Indoor Air Quality?
We offer many services to help residential and commercial buildings enjoy improved comfort, health, and safety with better indoor air quality. Here is a sample of what our ventilation experts can provide:
Energy Recovery Ventilators (ERVs). These devices are extremely effective at improving indoor air quality. ERVs bring in fresh air from the outside while simultaneously exhausting old stale air out. This balancing of air in and out does not create pressure differences that make a home feel uncomfortable. In addition, ERVs "condition" the outside air coming in so it is almost the same temperature as the air inside your home. This causes less stress on your heating and cooling system as well as better comfort. Many of these devices also regulate the moisture levels in the air as well.
Whole-house fans. Whole-house fans are now required in every dwelling by code and are designed to create a healthy amount of ventilation in a home. They run a specified amount of time each day to exhaust stagnant air that can be a breeding ground for allergens and pollutants, including viruses and bacteria that can make us sick. This is an inexpensive and energy-efficient way of providing comfort and health for your IN-vironment.
Kitchen fans. Kitchens need attention to proper ventilation more than almost any other room in your home because of the moisture and fumes produced while cooking. We will upgrade your kitchen fan for a healthier and more pleasant space for you.
Spot ventilation fans. These fans are more commonly known as bathroom fans. They are designed to be turned on only when the bathroom is in use or in need of ventilation, such as during a shower. Each bathroom in your home should have a spot ventilation fan installed (also a code requirement for all new homes).
We are happy to discuss even more options available to you. Our indoor air quality experts will examine your home to find out the best choices for great ventilation improvements.
We Are Your Indoor Air Quality Experts
At Resicon, we are both a licensed HVAC and electrical contractor. Our professionals understand heating and cooling needs as well as how to wire and connect improvements into the electrical system.
We know all Tacoma, WA, area homes and businesses are different, so we will work hard to design unique solutions to meet your needs. Whether an ERV is ideal or you are looking for better ventilation in specific rooms, you can entrust our experts to provide work of the highest quality. Call us at 253-625-7952 or request service online today to discuss your indoor air quality needs.
Need Indoor Air Quality Service?