Never Rely on Unlicensed Electrical Work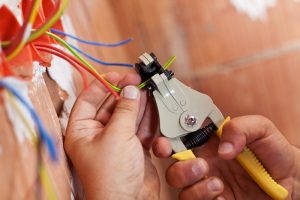 … and we're including you in that statement! Unless you are an electrician licensed to work in the State of Washington, do not attempt to handle electrical repairs, installations, retrofits, or other work more advanced than changing light bulbs. Only trust this work to an electrical professional who can show you proof of proper, current licensing.
The Importance of Licensed Electrical Work
We're going to leave aside "do-it-yourself" projects now—again, don't do this!—and look into the more common trouble people run into, which is hiring electricians in Olympia, WA who are not licensed for the job. Unfortunately, there are many fly-by-night so-called electrical contractors prowling around. These people offer cut-rate pricing and make big promises, and often they'll approach customers first to offer their services. But just as you shouldn't trust people offering services door-to-door at suspiciously low prices, you shouldn't trust these false electricians either. If they can't prove they're licensed, don't hire them.
The Liability Problem
The first reason never to hire unlicensed contractors is that they expose you to liability for any mistakes they make or injuries they sustain while on the job. If an unlicensed electrician does shoddy work on your home that isn't up to code, you won't have any recourse to fix it except by paying a professional to come do the work. A licensed electrician must correct any error made or risk having the state take away their license.
A license also means an electrical contractor has full workers compensation coverage. In case one of the technicians sustains an injury on your property during a job, you won't be liable for it.
Keeping Up to Code
We mentioned the electrical code, and we want to shine more light on what that is. Each municipality has its own implementation of the National Electrical Code (which aren't regulations, but guidelines for creating local codes). This code is in place to ensure electrical work is done safely to avoid the risk of fires and high voltage shocks. Licensed electricians must be familiar with the code and do code-compliant work or have the state rescind their license. An unlicensed contractor may put your home at risk with non-compliant work.
Getting the Job Done Right!
Finally, unlicensed work is almost always inferior to the work done by professionals who have gone through all the steps to obtain and maintain a license. A license is not a guarantee that an electrician is a great one, but it's the first step in finding a great electrician. A licensed contractor has gone through the proper training and education, as well as the necessary government channels, to provide service. These are people who follow the rules and aim to do the best job possible each time, rather than cut corners to make a few extra bucks and leave your home in danger.
Call the Local Electrical Experts
You've already found a great electrician to take care of your household electrical needs. And yes, Resicon is a licensed Washington State electrical contractor! Here is our license number: RESICL*919N7, RESICL*874OF. We can show you further proof on demand.
At Resicon LLC, we're committed to improving the lives of our customers! Schedule electrical services in Tacoma and throughout the Puget Sound Region.