How LED Lighting Can Be Used Around the Home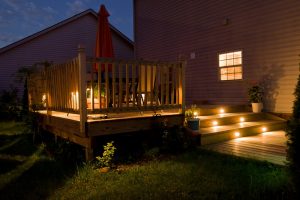 In our current year, one of the most important Olympia, WA electrical services you can have performed is an LED lighting upgrade.
You may have already heard all the benefits of LED lighting. They save energy, they're safer, and they have limitless potential for customization. But all of that doesn't really help you with envisioning just how these lights can be used.
In this post, we'll go over some of the applications you can use LED lights for, in both the indoors and outdoors.
Indoor Lighting Applications
When it comes to indoor lighting, we typically only have the choice of incandescent lighting. The problem with that, however, is that the shape and color temperature of these lights leave us with limited options. But with LEDs, we're capable of using a range of color temperatures as well as fixtures for every occasion.
Temperature settings: Temperature settings can change the color of the lighting in order to give it the right atmosphere and mood. Your personal office can use cool white lights to make reading and studying easier, while your family room can benefit from warmer, softer lights to create a relaxing atmosphere.
Track lighting: This type of lighting has various uses inside your home. For practical uses, it's a great alternative when recessed lighting can't be used. It's also useful for ensuring your kitchen is thoroughly lit. But it can also be used for aesthetic purposes, such as directing light towards art and other objects that you want to highlight.
Recessed lighting: These lights don't just save space by being installed directly in the ceiling, they actually give off the illusion that the room is bigger. To take full advantage of all the lighting techniques supplied by recessed lighting, it's essential that they are installed by a professional. Precise measurement and planning must be used to get the right effects.
Guidelights: A strip of LED lights can be used to make your home safer to navigate at night, especially for guests who are not familiar with your home's layout. Guidelights can go anywhere you wish to emphasize, such as beneath outlets, at staircases, in hallways, in the kitchen, and anywhere else. Again, we suggest having a professional help out just so they can help you strike the right balance of aesthetic and functional.
Outdoor Lighting Applications
Outdoor lighting is a great way to highlight the beauty of your property as well as to serve the functional purpose of helping keep your property safe from intruders.
LED Strips: Just like with guidelights, you can use strips of LED lights to emphasize steps, furniture, or the perimeter of your garden. And those are just a few examples. When installed by a pro with an eye for design, LED strips can transform your yard into a modern space.
Uplighting: When you position lights underneath walls, plants, and trees, it can create a dramatic or formal look. At the same time, it can illuminate your yard without having to take up space, like with stringed lighting or fixtures like lamps and poles.
Pendant lights: Hanging a pendant light above a long table can turn your backyard into a second dining room. There's a wide range of styles available to suit any home's design.
Contact Resicon LLC today to request a free consultation for lighting upgrades.